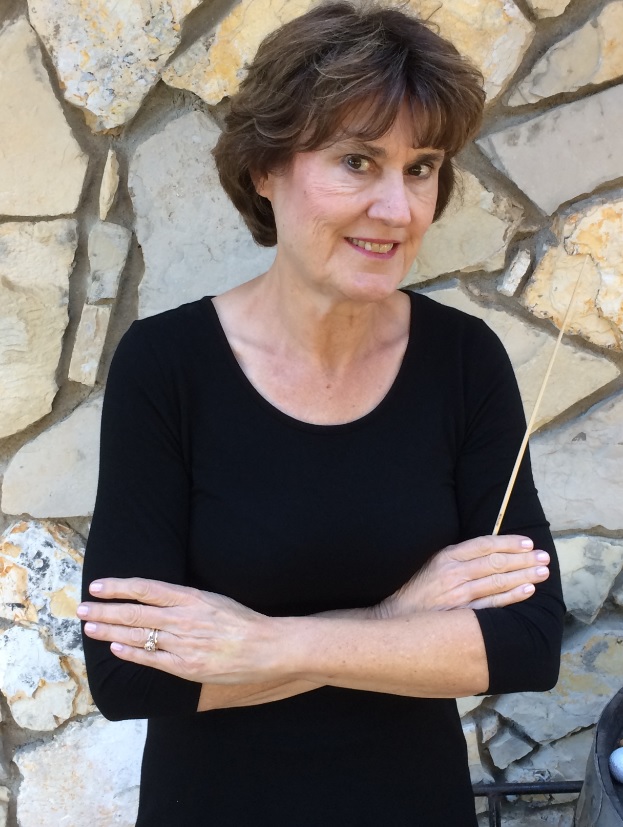 Kathleen Abrams Hacker
joined the Lompoc Valley Master Chorale as director in 2007, bringing to the position a broad musical experience, with over 40 years of experience as a professional choral conductor, pianist, organist, trumpet player, mezzo-soprano soloist, and music educator. She has many years of experience directing choirs for many years and has a wealth of repertoire knowledge. A native Californian, she grew up in El Monte, east of Los Angeles and received her Bachelor of Music degree in voice and music education from California State University, Fullerton, with advanced studies in choral conducting and vocal pedagogy.
Kathleen has studied with many prestigious teachers including choral conducting studies with Dr. Howard Swan, Dr. William Hall and David Thorsen, choral master classes with Dr. Weston Noble, Brad Ellingboe and Peter Aston and vocal studies with Lois Wells, Joseph Klein, Dr. Daniel Scott, Su Harmon and Robert Kuyber. Kathleen was a soloist and chorus member of The William Hall Chorale for many years and concertized all over the USA and Europe under Columbia Artists Management.
Other credits include performances with The Los Angeles Master Chorale, Glendale Symphony, Pasadena Symphony, The Philharmonic orchestra of Vienna, The Spoletto Festival, Pacific Opera Theatre, The Whittier/La Mirada Light Opera and numerous vocal recitals. One of the major highlights of her career was the great privilege of directing the Santa Barbara Boys Choir on their 1998 tour of England and Wales, providing daily evensong services for Christ Church, St. David's and Norwich Cathedrals.
Since her move to the Central Coast in 1987, Kathleen has served as Director of Music for First Presbyterian Church of Lompoc, First Presbyterian Church of San Luis Obispo, Organist/Choirmaster for St. Peter's Episcopal Church, Santa Maria, and currently serves as Director of Music/Organist for First United Methodist Church, Lompoc and Interim Organist for St. Mary's Episcopal Church, Lompoc. Kathleen currently provides music workshops for public schools in Santa Barbara and San Luis Obispo counties, as an artist in residence for Children's Creative Project, through the Santa Barbara County Education Office and maintains a private vocal and piano studio. She is the past Dean and longtime member of the Central Coast Chapter of the American Guild of Organists, is a member of the American Choral Directors Association, the Church Music Institute, and the Handbell Musicians of America. Kathleen and her husband Tommy reside in Lompoc and have four grown children and three grandchildren.